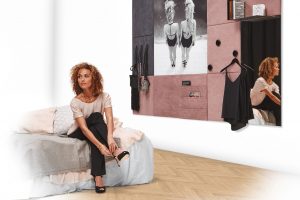 The new Dutch brand "Dock Four" has introduced the home decoration product "Stylepads" to the market. "Stylepads" are smart and stylish wall panels that can be put together by the consumer any way they wish. Dock Four: "Stylepads" were created based on the vision that there must be a solution for the styling your wall by combining decoration and functionality. For the decoration part a range of panels can be chosen, for instance wood, metal, leather, photo-print or textiles. The functional part is looked after by practical panels like "postcard holder", "bookshelf" or "mirror".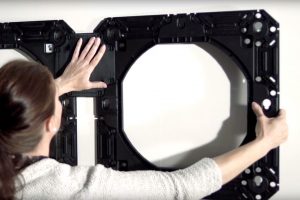 BPO has contributed to the development of the mounting system, in close cooperation with Dock Four and the producer of the parts, Pekago. The mounting system consists of a back plate, universal connectors and a front plate. BPO has co-developed the geometry of the parts and connections. The snap fits in the connectors have been optimised in such a way that they can be easily disconnected by the consumer while still able to hold the weight of the heavy "Stylepads" over a very long period of time. Because of the expected loads, the creep behaviour of the selected plastic resin has been taken into account in the finite element analyses.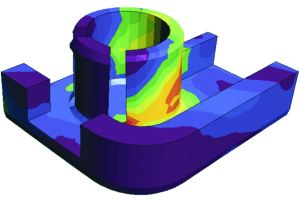 A simple fitting was one of the most essential requirements for the mounting system. This led to the development of one universal connector that is fixed using snap fits. This in turn led to a design where the complete wall panel assembly can be fixed to the wall using only a minimal number of fixation points. The back plates are fixed to each other as much as possible, instead of to the wall. BPO has simulated the mounting of the system and has optimised the position of the connection is such a way that the "Stylepads" fit seamlessly in their complete assembly.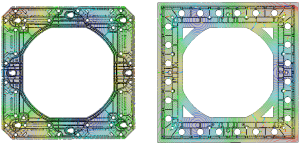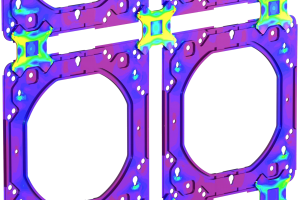 At a later stage in the development, BPO supported the project using injection moulding simulations. The geometry was optimised using the results of these moldflow analyses in order to prevent warpage. This was done successfully: the parts show no warpage in production.
This October Dock Four has festively introduced the "Stylepads" in its showroom in Amsterdam. For more information on the "Stylepads" and on Dock Four, see: www.dockfour.com