Handicare develops products that increase the independence of disabled and elderly people. With the "Coral" concept, Handicare introduces a solution for more comfort when showering and visiting the toilet: a modular shower/toilet seat and commode. By request of Handicare, BPO engineered the original concept for the chair series up to a producible design.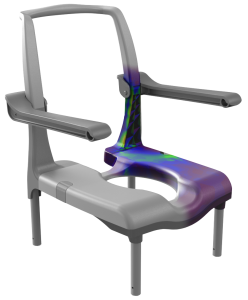 The Coral concept is a fully modular system. This gives users the possibility to adapt the product when personal needs change over time. With some simple adjustments the shower chair can be made into a toilet chair, the stool can be made into a commode, and vice versa. Plastic parts like seats, backrests, foot support and armrests can be assembled without tools on the stainless steel frame by means of integrated snap connections. Furthermore, the user can add extras and accessories to the product as desired.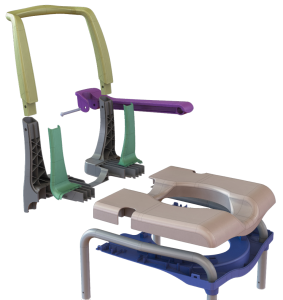 BPO engineered the parts and connections of the Coral concept for Handicare. The aesthetics, ergonomics, assembly and producibility are constantly taken into account during development. The construction of the seat backrest for instance, consists of an upper part and a lower part supported by ribs, connected through the axes of the moveable armrests. This way the connection is made strong, almost invisible and easy to assemble.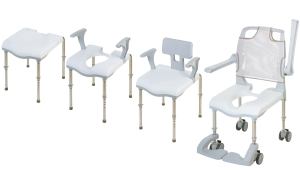 Also, the strength and stiffness of the construction is analysed extensively by advanced FEM calculations. As the product is used by people with disabilities, it is loaded very heavily. A stable and safe design could be guaranteed based on the analyses. All plastic parts are subsequently engineered up to ready for production status, where all the production details like drafts and rounds are added. Finally, BPO advised Handicare during the start up of the production.The modular support system is recently introduced into the market.
For more information: www.handicare.com.