To answer these questions we use FEM simulations. The specialists of BPO offer you detailed and reliable answers to the most complex problems using the best simulation tools and their years of experience in technical product development.
FEM simulation
FEM simulations are used to analyse and optimise the mechanical strength against minimal weight or costs.
It offers valuable insights in the following situations:
Development of new, heavily loaded or lightweight products.
Reduction of costs, weight, risk or production of existing solutions.
Fixing problems with a failing part.
Using FEM simulations we test a large number of geometric variations and alternative materials in an often much shorter time span and against lower costs than with conventional physical testing. Also, the simulations do not only show the location of the failure and the deformation, such as buckling, but also things that are not visible in physical testing. The stress and strain distribution in the material shows critical locations in the design, or indicate the areas that can be changed in order to reduce the weight.
We simulate a very large range of loading situations. With our high-end simulations we take into account the contents of the product (components, solids, liquids or gasses) as well as the influence of time (creep), temperature and for instance UV-degradation on the material properties.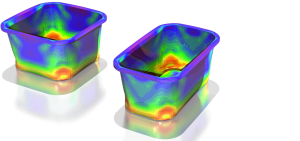 Topology simulations
BPO uses topology simulations. With this advanced software we are able to automatically optimise products and mechanisms. This is especially useful for single part products that you want to have optimised for multiple load cases. Typical examples are:
Rib structures for heavily loaded panels, pallets and bottom structures.
Hinges, transmissions, suspensions and other structural parts.
Structural stiffening of flat surfaces in packaging or vacuum formed parts.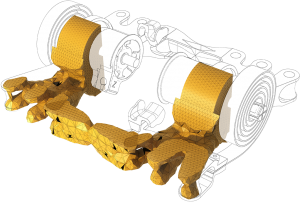 Load cases
Some examples of the load cases that we can simulate:
Dynamic drop tests with different orientations
Transport loads, like pallets stacked in a trailer during transport
Long term static stacking loads
Loads caused by assembly of parts, like deformation of snap locks
Pressure loads in a closed product
BPO simulates the non-linear material behaviour of plastics like the often used types PP, PE, PA, PS, PET, ABS and PC, but also the behaviour of more exotic types like PEI, PEEK, glass fibre reinforced plastics as well as bio-plastics like PLA. Furthermore, other materials are simulated, like metals, for instance aluminium, steel and Zamak, glass and even 3D printed materials like sintered nylon or titanium.