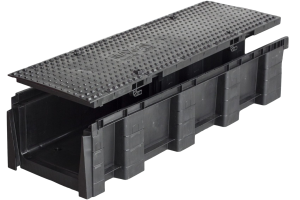 Heatpoint is specialised in the development of high end rail applications for train, tramway and subway companies. Examples of rail applications are railway points heating systems and plastic cable ducts. Together with Heatpoint and HSV, BPO developed a new generation of plastic cable ducts. This resulted in two products that are distinctive in lifetime, functionality and durability.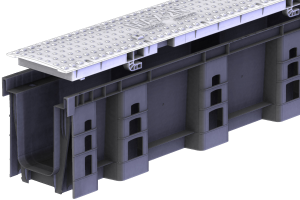 A railway cable duct is a duct with cover, where cables are led through to keep them protected. The ducts must fulfil strict safety requirements that are constantly being updated. One of the new stricter safety requirements concerns fire safety: the ducts may not burn or emit any toxic fumes when heated. Current cable ducts are made of recycled PP or HDPE with fire retardant, a material combination that is not desirable for environmental reasons.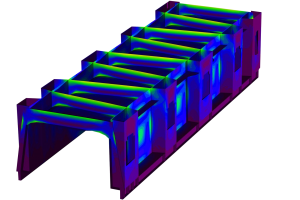 For the new cable ducts PA6 is selected: a ductile and strong material with excellent properties regarding fire safety. The cost of PA6 is acceptable, provided that the walls of the duct are constructed thin enough. Aside from fire safety, the expansion of the material under the influence of moisture and temperature is relevant: in the past cable ducts have been known to "buckle out" by material expansion. This problem has been solved by making a special construction at the connection of the duct parts, which allows each duct to expand without influencing the other ducts.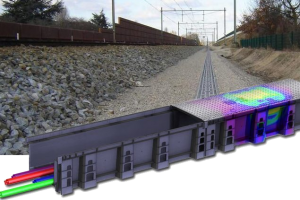 The material usage and producibility of the new generation cable ducts are optimised by BPO. Thanks to a well thought out, thin walled construction the cable duct can remain a cost effective product, even though a more expensive engineering plastic has to be used. The construction is designed for minimal clamp force, minimal warpage (unequal shrinkage), minimal cycle time and of course sufficient strength. The cable duct can withstand the weight of a digger and it fulfils the strictest required compression tests of the railway companies.

BPO constructed the connecting hooks between duct and cover in such a way that the cover can only be opened with a specific tool. The connecting hooks also function to stack the ducts and covers in a stable manner and to position the parts relative to each other. Furthermore, the covers have an anti slip pattern to limit the chance of accidents in slippery conditions.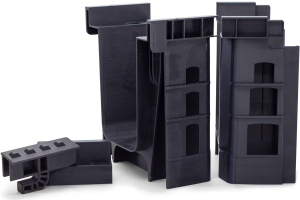 The entire project, from concept to production ready design, is realised in an extremely short lead time. The design and optimisation departments of BPO have worked in close cooperation to be able to deliver the project in time.
For more information: www.heatpoint.nl.