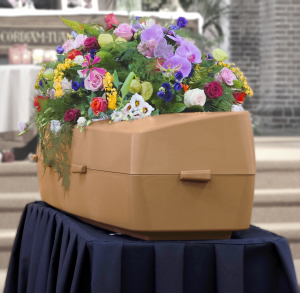 The ecological coffin from Onora is made of the biobased GreenGran material. The ingredients of this material are locally produced, organic by-products of the potato- and seed processing industry. Onora's coffin is not only biobased but also biodegradable. If used in a burial the material of the coffin will be dissolved in the ground without leaving any hazardous remains. If used in a cremation, it will burn cleanly and much less toxic gases are released compared to the burning of traditional coffins.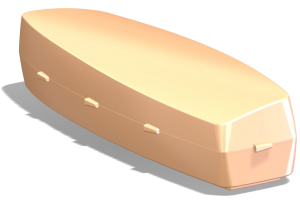 Two years of development preceded the market introduction of the coffin. BPO contributed to the realisation of the coffin using CAD-engineering, finite element analyses and injection moulding simulations. BPO optimised the main shape of the coffin and developed the clasps. The main shape had to meet a series of functional and esthetic requirements, that were translated with the help of BPO to a manufacturable product with reasonable tolerances. The clasps are made of the same biobased material as the coffin itself. BPO has developed the geometry and the fitment of the clasps. They can be opened and closed with only slight (hand)force. Besides, they are designed for the opening and closing to be as quiet as possible, they are also designed to fit with the design and shape of the coffin.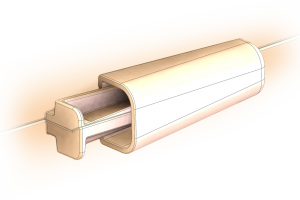 The geometry of the coffin has been optimised further using finite element analyses. It was simulated where the highest material stress will occur during the lifting and moving of the coffin. Also, the effect of placing heavy objects on top of the lid of the coffin has been looked at. Using these analyses the geometry and wall thickness were optimised.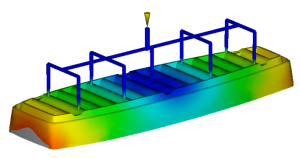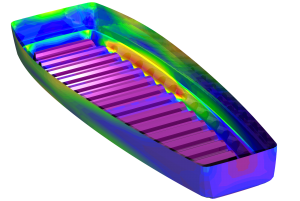 The ecological coffin is the largest injection moulded bioplastic product ever made. This brought along some particular challenges concerning the production of the parts. BPO has used injection moulding (moldflow) analyses to advise on the required injection moulding machine, the best injection system and the positioning of the injection points.
Onora, a Dutch start-up company, has promoted its idea in the media since the start of the development. This has resulted in, among other accolades, winning the Marie-Claire Starters Award, de Startup of the Year Award and the MKB export award.