La Coppa is a new coffee brand that has recently been introduced onto the market. The coffee is delivered in plastic capsules that can be used in Nespresso* machines. La Coppa's priority is the taste of coffee: the capsules are engineered to have a perfectly balanced amount of coffee per cup of coffee. The result: just great coffee!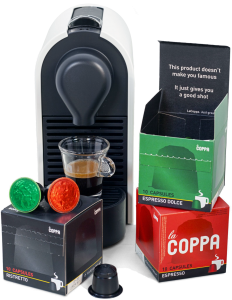 BPO has, in cooperation with La Coppa, designed the capsule. It is important that it can be used in many different coffee machines. BPO has extensively researched the properties of the different espresso machines. Also the coffee making process was improved in a few optimisation steps, by taking measures to guarantee a good water flow and a good sealing of the capsule in the coffee machine. Thanks to this, the water is pushed through the coffee blend at high pressure, creating the typical powerful espresso taste. FEM-analyses contributed to the development, by adapting the stiffness in the right areas of the capsule, so the piercing of the capsule in the machine is guaranteed.
During the industrialisation phase, BPO contributed to the development, by proposing and implementing changes regarding production technology. Different hands-on activities during the building of the production line were carried out as well.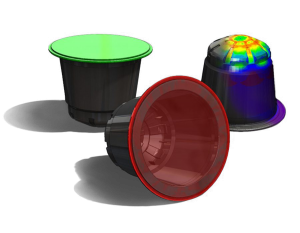 The freshness of the coffee is guaranteed by a special oxygen barrier layer in the capsule. This means that no further packaging around the capsule is needed. The capsules are delivered per 10 in a cube-shaped box. The flavours Espresso, Espresso Dolce and Ristretto are available now from all Jumbo Supermarkets in the Netherlands. More versions will soon be introduced.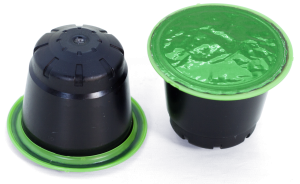 For more information, go to: www.la-coppa.com.
* This brand is the property of third parties who are not in any way related to La Coppa.