BPO has developed a revolutionary new display system in collaboration with HB RTS and Hollarts. The durable display replaces cardboard displays in, for example, supermarkets with reusable plastic trays with interchangeable cardboard inserts.
Easy to use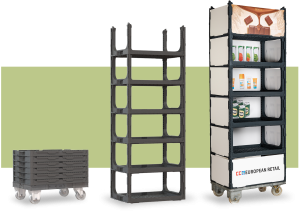 Since the Sustainable Display Tray consists of separate trays, it is possible to quickly build different displays. Empty shelves in the display can also be replaced or removed directly on the shop floor. The uprights are easy to fold in and out and offer the possibility to add cardboard for different branding. The display can be combined with all types of standardised, reusable dollies and quarter pallets.
Optimised for the load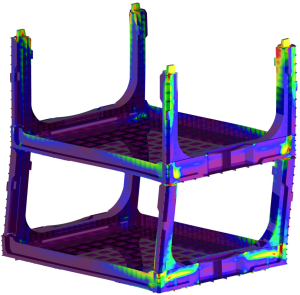 Using simulations, the uprights and the deflection of the bottom were analysed and optimised, among other things. The tops of the uprights have an ingenious and patented fit with the tray above, so that the uprights can withstand much more load and can be made slimmer. The displays can be stacked up to six high and must also be able to be transported. Horizontal accelerations in particular are critical here. By simulating this situation, the uprights and the angles of the tray could be optimised so that they meet the toughest transport requirements.
One of the biggest challenges in designing a tray with folding uprights is that a stacked display needs to be as stable as possible. In the design process, much attention was paid to tolerances and stacking, both folded and unfolded. By using injection moulding analysis, the geometry has been further optimised to minimise warping during production. This has resulted in a display that is stable and at the same time easy to fold and stack.
Sustainable through reuse
In today's market thousands of cardboard displays are used every year. A lot of cardboard is needed for these displays, and they are often printed differently per season. After a few months of use, these displays already become waste that must be recycled. The Sustainable Display Tray is made of plastic that lasts many more cycles and can be branded in different ways. Because the plastic provides stability, it is not necessary to close all the sides. Also, much less, and thinner cardboard is needed, which saves a lot of waste and therefore also limits the CO2 footprint. HB RTS has set up a pooling system for the displays, so that the material can be recycled within a closed system at the end of its lifespan.
More information can be found at https://www.hb-rts.com/sustainable-display-tray