In cooperation with ABC Display Systems BPO has developed a modular exhibition flooring solution. Important themes for this project were esthetics, ease of laying, compact transport, personalization and finally the integration of a solution for the cables. The final product consists of modular floor elements that can be used for multiple exhibitions, while the configuration and appearance can be changed for each individual event.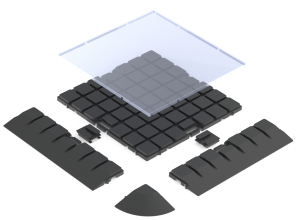 The modular floor is made of ABS and consists of three elements: (1) the base tile, with integrated cable guides, (2) the clicking elements and (3) the outer edge elements. Using the clicking elements the base tiles can be connected to each other in any configuration without having to use any tools. An optional transparent covering plate, made of polycarbonate, makes it possible to transform the floor into an advertising space. The base tiles are nestable during transport, while the covering plates can be interstacked so scratches during transport can be prevented.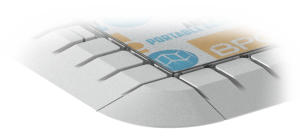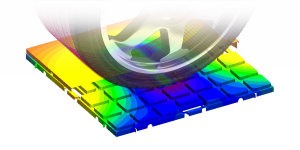 The strength of the floor tiles has been simulated by BPO using finite element analyses. This way BPO has simulated what happens if a car is driven over an assembled expo floor. Also, BPO has minimized the risk of warping of the tiles during production, using injection moulding (moldflow) simulations. By optimizing the design before production is started, it was possible to produce straight and flat tiles right from the start.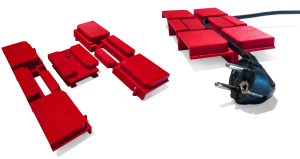 BPO has gone through the complete design process together with ABC Display Systems, from idea generation to the validation of the first production series. During the development, multiple 3D prints were made of principles and details of the design, to get a quick insight into the functioning of the clicking system and the cable guidance. Thanks to the in-house prototypes the total development, from initial idea to first production run, could be realized very quickly.