The many flat roofs of office and commercial buildings offer tremendous potential for the installation of solar panels. For easy installation of the panels, German company SOLON introduced the SOLfixx system. BPO contributed to the development of the system with strength and stiffness analyses, moldflow analyses and the design of the wind deflector.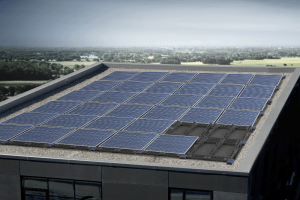 For large projects solar panels are usually installed in aluminium frames. Heavy concrete blocks are used to prevent the system from being blown of the roof by strong winds. These blocks create large loads on the roof. The SOLfixx system consists of a plastic console which can be anchored to the roof in different ways. What distinguishes the system is that the roofing material is not affected. The weight of the SOLfixx system is just 12,9 kg/m2, because of this it can be placed even on the lightest roofs.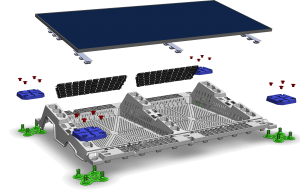 The console is an injection moulded plastic part of 1,45 m by 2,12 m that is made in one shot. For the production of this part, HSV, which produces the console, has bought a new injection moulding machine with a clamping force of 4000 ton. Production is done with a 17 gate hotrunner with cascade injection which is optimised by BPO. The location of the various injection points is determined and, in line with the cascade injection, when each of these has to be opened. The wall thickness and flowleaders are optimised to minimise product weight at a maximum allowable clamping force of 4000 ton.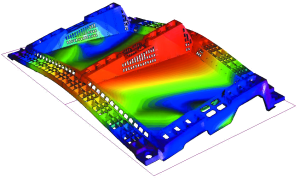 To decrease the effect of the wind loads BPO developed a special wind deflector that clicks into the console. It consists of a series of lamellae which keep the wind from getting any grip on the solar panels and through the open structure also ensure enough cooling for the components. The shape of the lamellae makes the wind deflector flexible. This keeps it attached to the console even if it deforms due to high winds.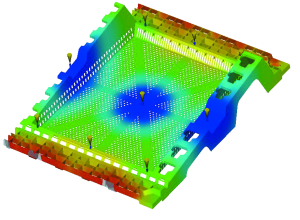 The mechanical behaviour of the SOLfixx system at extreme wind and snow loads is also optimised by BPO. In this optimisation the creep loads over multiple years, weather influences and UV radiation have all been taken into account. Because the system has to remain on the roof for over ten years, it is very important to not just assume the 'virgin' properties of the material. In this project BPO has deployed its large experience to simulate plastic products which are subject to creep, aging and the effect of UV radiation.
For more information see: www.solon.com.