BPO has developed the new injection moulded SB3 pallet box for Craemer GmbH. The 1200 x 1000 x 790 mm box is made of high-quality, food-safe polyethylene and made in one shot of over 40 kg of plastic. It is available in either a closed or perforated version, with three runners or nine feet. Its single-mould production and a particularly stable construction make it extremely durable.
Plastic pallet boxes are the ideal solution for storing and transporting products and bulk goods of all kinds – provided the containers are robust, stackable, easy to transport and easy to clean. BPO used its knowledge and experience in the development of plastic products and in particular materials handling systems to ensure the new pallet box meets these requirements and more.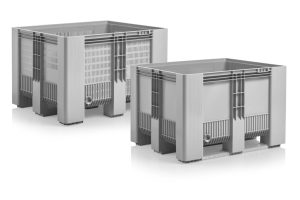 Very durable
The box is very durable. The performance is maximised by various clever construction features, such as the particularly stable runner connection, which ensures extreme resistance and secure lift-tilt emptying by a rotating forklift. Additional ribs on the outer walls provide impact protection against forklift tines.
The box may contain up to 700 kg of content. During the development, load cases as required from standards DIN EN 13626 and DIN EN ISO 12048 were simulated. The simulation results were used for decision making and to ensure the actual product would pass the standard tests.
Advantages in day-to-day use
Thanks to its ingenious design, the one-piece, injection moulded SB3 offers numerous advantages in day-to-day use.  The all-round stacking shoulder in the upper and lower edge make the container compatible with many other containers. The seamless construction and the smooth inner surfaces enable easy emptying, easy cleaning, and good drying properties.
The box is optionally available with two closed or open drain ports. These ports have an integrated thread, and a drilling mark makes it easy to open the holes later if necessary. The SB3 is rounded off by a custom-fit lid.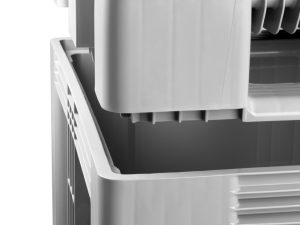 Injection moulding
Simulations were used to analyse the injection moulding process and ensure that undesirable effects such as warpage and bending of long steel mould parts (core bending) would not occur.
For more information on the products go to: www.craemer.com/uk/products/pallet-boxes/palletbox-sb3/