Samsonite is market leader in luggage and aspires to sell beautiful and innovative products worldwide. With the S'Cure Samsonite introduced the lightest polypropylene travel suitcase until then. This innovative suitcase has been developed in an intensive and long-term cooperation with BPO.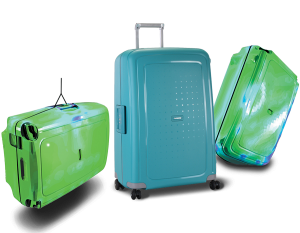 The S'Cure consists of two thin-walled shells and it has locks on three sides. The pull handle which can be locked on different heights, the aluminium wheel handle tubes and the four double wheels make the suitcase comfortable to use. The largest (75 cm) version of the new S'Cure weighs only 4.5 kilograms, the smaller (69 cm) version weighs even less at 4.0 kilograms.
BPO supported the project from the start with highly advanced FEM analyses, where deformation, maximum stress and the weight of the product were constantly observed for different, mostly dynamic, loading situations.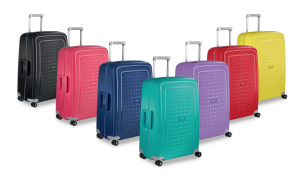 To be able to create a stiff and stable rim a large number of techniques and geometric shapes were evaluated during the concept phase. Also, a topology optimisation was used to generate and analyse different variations on a pattern of grooves on the surface of the shells. These grooves are used to increase the stiffness of the shells exactly there where deformation must be as little as possible.
The suitcases of Samsonite are subjected to heavy loads in different tests. Critical load cases such as impact by falling on one of the edges of the suitcase or on the wheels as well as loads on the carry handles and pull handle have been analysed in all development stages. Advice has been given to improve the design and to help making choices.
The shells are made of Flowlite material, a revolutionary polypropylene mix with very good flow characteristics. To find an optimal combination between performance and weight both shells have also been optimised using moldflow calculations. Using these analyses the wall thickness distribution has been chosen to design a suitcase that can be produced within the available clamp force, while maintaining the balance between performance and weight.
For more information check the website from Samsonite.