Conventional emergency lighting is mounted high (on the ceiling), produces white light and is only being activated when the mains power is cut. This creates impaired vision and disorientation during fires, because the white light is reflected off of the smoke particles. The recently introduced Nodazzle products are based on a new, innovative concept for emergency and evacuation lighting. Nodazzle uses coloured light and is mounted low on the wall, maintaining visibility and creating a clearly visible route to the emergency exit.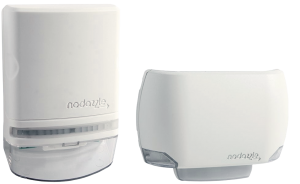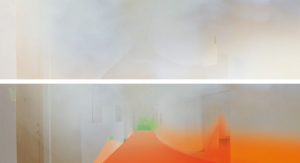 Above: Conventional emergency lighting in smook. Below: Nodazzle safety lighting in smoke.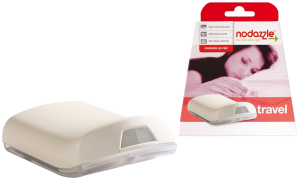 BPO has developed a complete line of products for Nodazzle, for both consumers and professionals. An important starting point for the development was the global design of the parts that was made with foam models. The Nodazzle products have specially coloured LED light, light detection and motion detection within a 180 degree area. This combination of properties means the system is always active and not just when the mains power is off.
The Nodazzle products consist of optical elements for an optimal light spread and sensitive motion detection, placed in a high quality plastic housing. The shown products receive their power from four AA batteries and can be used at home as well as when traveling. Nodazzle not only increases safety, but also increases comfort for instance when leaving the bed at night.

BPO searched for the optimal placement of the components for each Nodazzle unit, while keeping the elegant and contemporary styling in mind and coordinating the functional aspects with all stakeholders.