LPR (la Palette Rouge) assigned BPO to develop their new "quarter pallet", a logistics solution for the transport and display of goods. The pallets are used widely and, next to the possibilities for transport it also offers a displaying function.
There are multiple suppliers of pallets active on the market and next to design and colour, the costs and performance are the main selling points. The pallet must be compatible with existing products and it must be better regarding price and quality to be successful in this competitive market.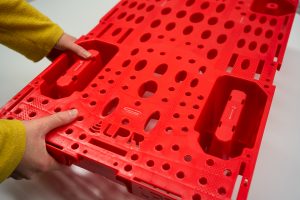 BPO has made a beautiful new design, even though the room to play with here is small. Next to the colour of the product, the upper surface is suitable to make a product that looks different than competitor products. Of course, much added value is created by executing FEM-analyses on the product to balance the complete performance. Thanks to our analyses, the upper surface, the standing feet, and details have an optimal shape compatible with existing systems. The pallet performs comparable to the competitor products and it meets all norms and standard, although it is made using less material and has a lower unit price.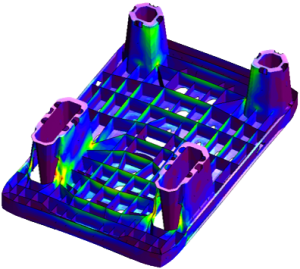 An important quality requirement, next to small tolerances, is a high degree of flatness of the product. This was worked on using Moldflow studies, making sure that the product can be produced straight as an arrow. Also, the newest hot runner nozzle technology of Haidlmair was used, the so called FDU nozzle system. This rectangular nozzle has as an advantage that it can be used on ribs as well as on surfaces, creating less pressure drop and less shear at the injection point, and thereby better and faster packing properties.
The result is a lightweight, flat, and recognizable product that will certainly carve out its place in the logistics market. More information about LPR can be found at www.lpr.eu.