"Kedge Safety Systems has been delivering the product "Kedge" for more than a decade. The "Kedge" is a robust anchorage point for fall protection on flat roofs.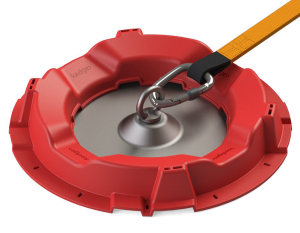 The solidly and cleverly designed anchorage point grips on to a rosette of roofing material. This rosette is fixed to the surface of the roof using a blow torch or hot-air gun. This creates a reliable, durable and watertight seal between the anchorage point and the underlying roofing material. When the Kedge anchorage point is loaded, several things happen. First, the crumple zone in the Kedge anchorage point is deformed. This absorbs part of the energy that is released during a fall. The remaining energy is transferred and absorbed via the roofing. For ballasted roofs a gravel sealing ring is placed around the kedge anchorage point, so that it will remain clearly visible. Currently a gravel sealing ring made of concrete is used.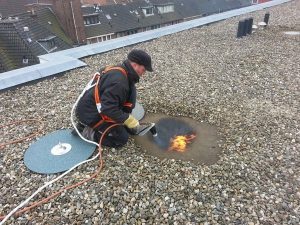 Assigned by Kedge Safety Systems, BPO designed a gravel sealing ring made of plastic. The plastic version is, of course, much lighter than the concrete version and on top of that it can be nested. The product is thus much easier handled by the roofer and it is more efficient in transport and storage. The geometry of the plastic gravel sealing ring has been optimised for use around the anchorage point. Four indentations are made for an optimal guidance of the mobile lifelines and the top edge has been chamfered so as not to interfere with the working lines. Of course, the plastic variant has, like its concrete counterpart, draining holes. The sealing ring is fixed by gravel on top of its flange and/or by sealant under the flange. For roofs with a large amount of gravel, two sealing rings can be placed on top of each other: if placed in one direction they will nest, if turned 90 degrees they will stack. The product is made in a bright signal colour red for optimal visibility.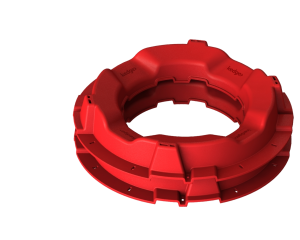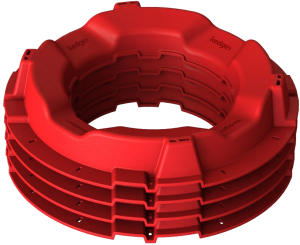 BPO developed the sealing ring from first sketch up to and including its release for tooling. First, different scenarios (usage, installing, logistics) were analysed thoroughly and translated to a list of requirements. Next, different concepts were developed and conflicting requirements were weighed against each other. For instance, the requirement "as large as possible visible surface" conflicts with "as small as possible nesting pitch". In consultation with Kedge Safety Systems the optimal balance was chosen. The selected concept design was then optimised by BPO for production using a simple open-close mould. Finally, BPO helped Kedge Safety Systems with the selection of a cost efficient, UV-resistant material (ASA red) and with the selection of a producer.
The market launch of the plastic gravel sealing ring is expected soon. For more information on Kedge Safety Systems, please go to: www.kedge.nu.