The Dutch company Robot Climate Comfort Systems develops, produces and sells underfloor heating manifolds, including the successful type "standard manifold". This is a compact unit with a selection of 1 to 15 groups. The standard manifold is made of a steel beam profile.
A plastic version of the "standard manifold" has potentially large advantages regarding the production efficiency. Manifolds consisting of multiple connected parts are already on the market, those types need a new connection part to be added to the system for each new group. This was not the direction Robot wanted to go. The main benefit of the current product is that it is made of one piece with therefore a minimal chance of leakage.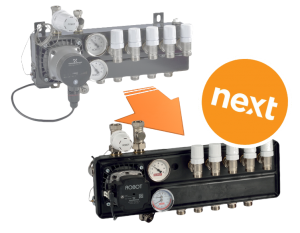 BPO looked at different options to realise a plastic manifold out of one piece. Ideas were created for rotational moulding, extrusion and injection moulding. The technical feasibility of the different options was analysed using FEM simulations. Next to a diverse range of production methods, multiple material options were looked at. In the end injection moulding was chosen, where different number of groups can be created using exchangeable parts in the mould.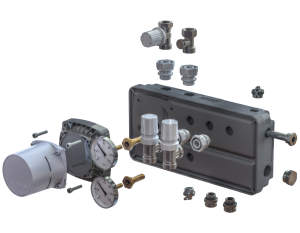 Special attention was given during the designing to ascertain the leak tightness of all the holes that are required for the assembly of parts as the hose connections, the pump housing, temperature gauges, regulator valve and air vents. All connections must be able to withstand high pressures, specially developed inserts were used to make this possible.
A parting of the housing into two parts proved to be inevitable, because of the way the product is to be assembled. To make a secure connection between the front and back part of the housing, extensive research was done for welding and gluing, where in the end the decision was made for the parts to be glued together. A lot of further research was done to choose the appropriate type of glue, the optimal geometry around the glue connection and the optimal processing and curing conditions.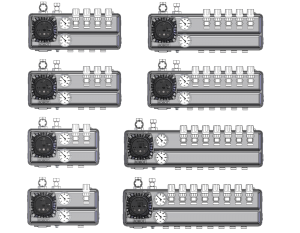 BPO also advised Robot during the selection of a producer. A producer with experience in gluing, moulding using inserts and modular moulds was preferred. The manifolds are currently being produced by Pekago and are glued together using a robot that was specifically developed for this project.
The innovative manifold has been tested thoroughly (including at TNO) and will be introduced shortly under the "Next" moniker.