Bertolli, a brand owned by Unilever and known for its range of olive oils and olive oil-based spreads, is introducing a touch of everyday luxury to the dining table with its new spread – Bertolli Gold.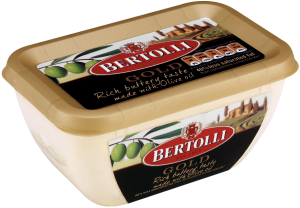 Bertolli Gold is made with hundred percent Mediterranean olives and contains forty percent less saturated fat than spreadable butter blends. Bertolli Gold combines a rich buttery taste with the natural goodness of Bertolli's finest olive oil. Spread on a slice of artisan bread for breakfast, or melted over steamed vegetables, Bertolli Gold gives a buttery taste to all your dishes. Its unique transparent tub is the perfect addition to any stylish kitchen table.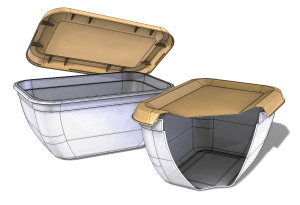 BPO has lent its expertise to the development of this tub and its lid. To be able to produce a unique and distinctly branded packaging with a luxury feel, BPO provided guidelines and design reviews at the start of the project for the branding experts. After market testing a concept design was chosen. This design was then engineered by BPO to fit the current filling lines for Unilever's main tubs and lids, to fit into the current logistics system (for instance to fit the current secondary packaging size, so no new cardboard packaging needed to be developed) and to have the luxury look and feel that Bertolli Gold aims to provide its customers.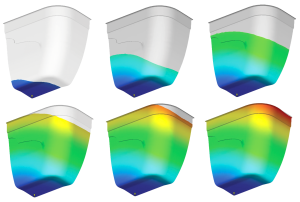 Filling pattern of the tub simulated with Moldflow
Moldflow analyses were performed, to verify the performance of the tub for production. Also, strength analyses were conducted to verify the ease of usage and the luxury feel of the packaging as a whole. During sample tooling and preproduction BPO provided support, including day-to-day troubleshooting and being a sounding board for Unilever in consultation with its supplier.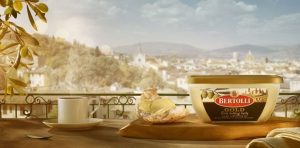 Bertolli benefitted in the development of its Bertolli Gold tub and lid from BPO's core competence in development: taking into account all factors of the development. By combining the basics for the design, the engineering for strength and stiffness, engineering for production (ease and robustness of production, as well as costs), logistical consideration, filling line restrictions and also ease of use.