D&M Premium Sound Systems has an unparalleled reputation as worldwide developer of audio systems. Among its customers are BMW, Ford, General Motors, PSA Peugeot Citroën, Toyota and Volkswagen. BPO has assisted D&M PSS with the development of the speaker boxes in which these audio systems function. An example can be found in the design of a subwoofer box for the Citroën C5.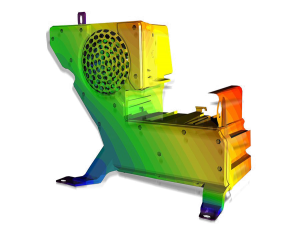 During the development of a new car a lot of time and energy is used to prevent unwanted noise and vibrations from getting into the car's interior. Within the interior also a lot of attention is given to vibrations. It is unwanted that a part is rattling during a drive. This is especially important for speaker and subwoofer boxes. The vibrational behaviour of these kinds of speaker housings and the interaction with their environment therefore has top priority.
The random vibrations that occur during driving can be described with a frequency spectrum. BPO has calculated the maximum displacement of the subwoofer box using a norm-based spectrum.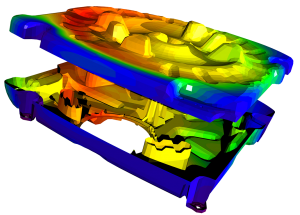 To be able to do that all natural frequencies and their vibration modes up to 300 Hertz were simulated.
Out of the simulations a couple of areas of concern were distilled, for instance the connection between the two main parts of the box. Also the connections of the subwoofer, the CD changer and the box as a whole required reinforcement. The vibrational behaviour has been improved significantly by adding wall thickness and ribs on very specific spots. Next to that, BPO advised on the material choice.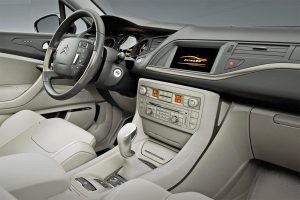 In combination with high end audio systems the speaker housing contributes to an optimal sound experience inside the car.