Rectangular drum with sliding lid
CurTec designs, produces, and distributes high-performance plastic packaging such as drums, pails and jars, which are used in the pharmaceutical, chemical and food ingredients industry.
Their new rectangular drum has a great advantage in efficiency in transport and storage over round drums. In addition, the drum is conical, making it nestable and efficient to transport empty. The drum and the corresponding lid are made of HDPE.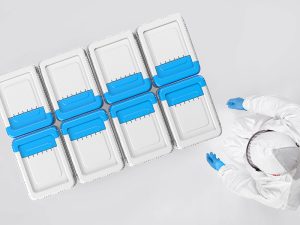 BPO assisted CurTec in the development of the new vessel. The sliding lid reduces handling time but presents a technical challenge when it comes to the seal between the drum and lid. A round vessel is typically sealed with a twist closure and circular seal. This is not feasible for a rectangular drum. CurTec has developed a new solution for this that slides and then closes the drum. To make and keep this seal secure, even during a drop test from a great height and with a volume of 40 litres, BPO has performed FEM analyses and has given advice.
BPO has assisted from the first concept development with simulations and advice on the strength and stiffness of the entire keg and in particular the new closing mechanism. Complex drop analyses were performed to assess whether the closure remained operational, and no leakage would occur.

The stresses and strains in the HDPE in the simulations were used by BPO to assess whether the vessel and sliding lid could break due to impact in the event of a fall. The deformations were used to check whether the lid does not come away from the drum too far. Because in that case the seal will no longer be sufficient, and leakage will occur. The optimal interface between the lid and the drum, such as ridges and other possible constructions, was sought in various simulation steps.
More information about this new product can be found at https://www.curtec.com/en/products/drums/rectangular-drums/detail/rectangular-drum-40-liter.