WALTHER Faltsysteme GmbH develops and produces foldable multi-trip containers. The company is recognised as being the most experienced in foldable plastic boxes in today's market. The company has all production steps, from construction and technical drawings to series production, under one roof. Injection moulding machines with clamping forces of 1,300 tons enable the production of small containers to highly stable plastic boxes or pallets for demanding transport tasks.
For a new line of foldable containers, WALTHER has asked BPO to develop a concept for the new container, in which a new design is combined with robustness, comfortable (un)folding and optimal solutions for all functional elements. Important features of a foldable crate obviously are the hinges, handles and overall construction to create stiffness. Furthermore, details such as assembly guidance edges and fixation details, strongly determine the quality of the container.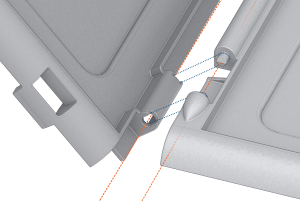 BPO has taken a systematic approach: first current solutions were analysed for existing containers. The observed solutions were reviewed and used to generate optimised versions of proven principles and completely new solutions. All the ideas were clustered in a morphological chart, which was used to make combinations into multiple concepts. The concepts were fine-tuned in consultation with WALTHER and delivered as 3D CAD data. From this point, WALTHER further detailed the product, based on BPO's input.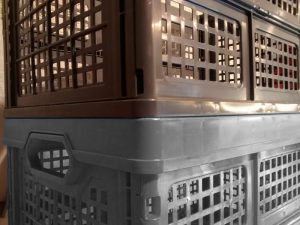 Hinges are constructed without an additional (steel axis) and are constructed in such a way that they are suitable for automated assembly. The container is overall stable and stiff due to the profiled shapes in the corner areas and secure connections (catch noses) between the parts in the unfolded situation. Grips are constructed and proportioned in such a way that they are comfortable and crushing of fingers when folding is avoided.
The final design was recently introduced on the market. It is robust, yet lightweight: the 40 liter version weighs approximately 1400 gram (perforated). The outer dimensions are 530 x 350 x 280 mm and the container can be folded to only 50 mm high, which allows 224 empty containers to be stacked on a pallet. All parts are made of polypropylene and are produced and automatically assembled from one mould. For more information see: www.boxline.com