At the start of 2019 Royal FloraHolland has introduced a new flower container to the market. The new container, the Fc588 with matching support shelving, is the successor to the large flower container Fc577. The new product has an optimal fit with both the CC-container (6 per layer) as well as the stacking trolley (10 per layer). Having an equal load per container, the loading efficiency is increased by 50% per CC-layer and by 11% on a stacking trolley and cage cart. This means that the chain costs are reduced significantly.
BPO has developed the new container and matching support shelving by assignment of FloraHolland. Together with them, the list of requirements was set up and first ideas were developed in 3D CAD. A real challenge proved to be the dimensioning: the outer dimensions needed to be significantly smaller than the current Fc577, for an optimal fit on the CC-container. However, the inner dimensions could not be reduced too much, because the number of stems that can fit in the container must remain the same. The effect: a small construction space and vulnerable cores in the mould.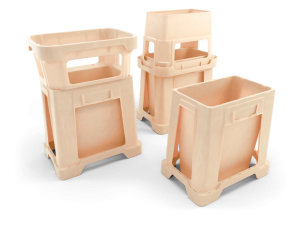 BPO executed a "core bending" simulation for the existing Fc577 (as a reference) and for multiple concept designs for the Fc588. Using "core bending" simulations, it is possible to calculate how much the mould is stressed during injection moulding and it can be assessed if this may lead to production problems. Production of the container in one piece was deemed too critical, because of the limited construction space. Therefore, in consultation with both manufacturers VDL Kunststoffen and Hollarts Plastic Group, it was decided to make the container out of two parts. The "skirt" and "bucket" parts are assembled together to one container using snap fit connections. This way it was possible to get the required dimensioning with minimal risks.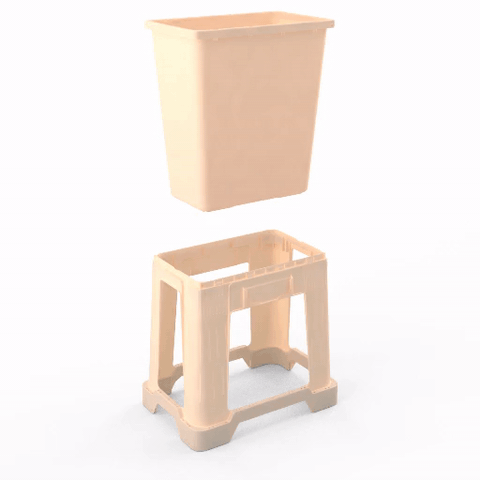 BPO has guided the complete development project and, in its role as independent adviser, has substantiated the decisions in the process with 3D CAD drawings and simulation results. Next to the "core bending" simulations different usage scenarios were analysed, for instance dropping from heights and stacking load at high temperatures during long periods of time. The geometry has been optimised in detail based on the simulation results. Furthermore, the practical requirements have been accounted for in the new geometry, like ticket holders, de-nesting under its own weight and grips without sharp (mould split) edges.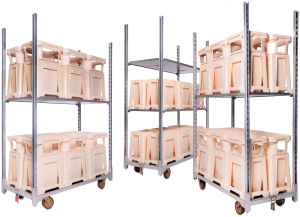 The new container is being introduced in phases per product group. For more information on (the introduction of) the new container, see: www.royalfloraholland.com.