BPO has carried out a design study for the Dutch Air Force Command (CLSK) into an alternative hinge for the sliding doors of the NH90 helicopter. With the help of 3D printing (Additive Manufacturing), CLSK wants to have parts manufactured faster and ultimately improve the deployability of its weapon systems. In an earlier project, BPO designed a mounting bracket for the same helicopter. In this first project, the options for weight reduction were mainly looked at. The hinge presents another challenge, as it is a composite product with moving parts and various functions.
In collaboration with Fokker Aerostructures, NLR and the Defense Materiel Organization (DMO), BPO has made a redesign that may be used in the future to replace the original hinge in the event of a defect. This temporary hinge is printed immediately when needed and there can be flown with a functioning door until it is replaced by an original hinge. The hinge consists of a fixed part that is attached to the sliding door and an axle that runs with a wheel through a rail on the fuselage of the helicopter.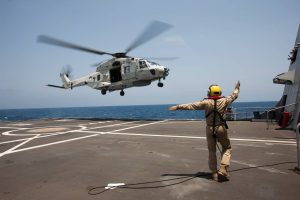 In the redesign, BPO has managed to realize the main functions of the hinge in a simpler way. Far fewer parts are required than in the original and the parts can also be produced by means of additive manufacturing. The shape, construction and orientation in 3D printing are designed in such a way that the parts can be used with minimal post-processing, which is a major advantage in practical situations on a mission.
The design was realized according to a structured process in which the first ideas were further developed step by step into a complete design in which all sub-problems have been solved. One of the biggest challenges was finding a simple solution to be able to eject the door as a whole (Jettison) in emergency situations. This has been solved by constructing a connection that can be heavily loaded in the load directions, but has freedom in the ejection direction, so that the hinge will come loose when the Jettison is activated in one of the other hinges. Topology and FEM simulations have been used to give the base part an optimal structure for the loads that occur when opening and closing the door. A smart addition is that the hood that covers the hinge is integrated into the new design, so that the original hood does not need to be replaced after replacement.
Designing for additive manufacturing requires a different approach than is the case with traditional production technologies such as injection molding. Do you have questions about the possibilities for using additive manufacturing for your products? Then contact us.