Samsonite is the market leader in the luggage industry and focuses on innovation and design. It has been leading the way in the use of new materials in the industry for 110 years. BPO has been helping Samsonite product developers design new cases for many years. For the development of the new Magnum case, there was an intensive collaboration as well.
Magnum is the newest and lightest injection moulded polypropylene case with a three-point closure. The shells are held together with three locks, which places high demands on the stiffness of the intermediate zones and the strength of the case as a whole. Before a suitcase is launched on the market, it is thoroughly tested in the Samsonite laboratory. BPO made computer simulations of some of the tests during the development of the new case. To get an idea of ​​these tests, such as drop tests, look at www.samsonite.nl/madeineurope/#quality-tests.

The results of the simulations were used to make choices between different solution directions for the construction of the shells, locks and fastening of various components. They were also useful for maximising the quality of the case and of course minimising the use of materials. The 75 cm version of the new suitcase weighs only 4.1kg.
The suitcase is available in different colours and materials, including a recycled version. In that situation, the suitcase is made of recycled household refuse: recycled yogurt containers for the shells and recycled PET bottles for the liner.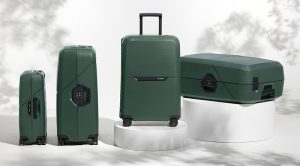 The case is injection moulded and assembled at Samsonite Europe in Oudenaarde (Belgium).