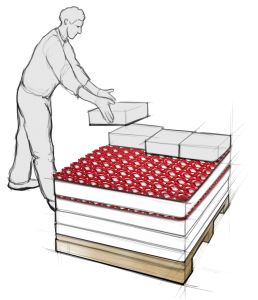 Large plastic trays with the size of a pallet are used in large freezer warehouses to be able to freeze boxes filled with fresh products as quickly as possible. These spacers are placed between every layer of boxes, so cold air can flow between the layers and the required core temperature can be reached as fast as possible.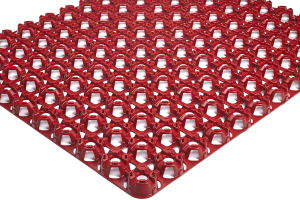 BPO has developed the new Freezer Spacer in close cooperation with Sell Plastics, an injection moulding company based in Nijkerk, the Netherlands. An important starting point in the development was that the new product had to be produced on an existing injection moulding machine of Sell. Furthermore, an optimal support of the boxes was required, so a stable pallet stacking could be achieved.
The new product has more stability than competing products and is also better suited for repeated use in the logistical chain, because of its construction. Tests have shown that the time required for freezing the content has dramatically reduced, meaning large savings in energy costs are achieved.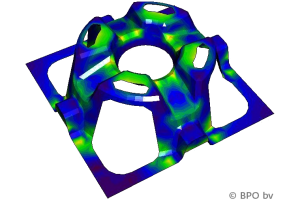 The geometry is constructed from a pattern of cylindrical cells, dimensioned in such a way that a logical mathematical structure was created. The design is made specifically to have the possibility to produce both a EURO pallet sized as well as a UK pallet sized version using the same mould with exchangeable parts.

To be able to stack the spacer after production and in the logistical process, a nestable shape was constructed. Stacking ribs were made to make sure an easy de-stacking of the products is achieved. Small details and sharp edges were left out as much as possible, in order to clean the spacer as good as possible in washing machines designed especially for the new spacer. The used polyethylene (HDPE) is not only well suited for the low temperatures in the freezer warehouses but also for the high temperatures that occur during cleaning.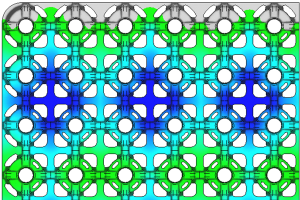 The geometry was optimised using injection moulding simulations, in such a way production is enabled on the newest injection moulding machine of Sell Plastics with a clamp force of 1200 tonnes. The optimal number and position of the injection points were analysed and detailed changes to the geometry and wall thickness distribution were made in order to achieve this.
The maximum carrying load of the spacer is no less than 9,000 kilograms. This maximum load has been verified during development using finite element analyses. In the material description used for the simulations the influence of the time of loading and the low temperature on the material properties of the HDPE is accounted for. Thousands of parts are currently in use all over the world, to complete satisfaction.
For more information: www.sellplastics.nl.