The Ahrend 380 is a timeless contemporary design of a chair made completely of recyclable plastic; the result of the collaboration between designer Ineke Hans and Ahrend. The Ahrend 380 is light, stackable and comfortable. The main starting points for the design: a small number of parts, a relatively simple production process and recyclable materials.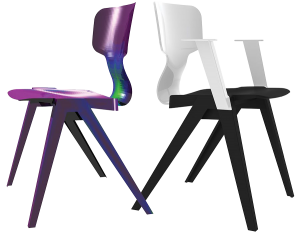 The chair consists of a backrest and a seat with legs. The seat with legs is available in different colours, while the high gloss back rest is always white. This backrest is made of Xenoy with added recycled PET and it has a certain amount of flexibility which makes it very comfortable to sit on. The chair can be bought with or without armrests. Both versions can be stacked on each other.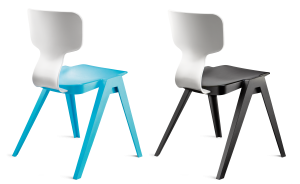 Using the wooden models and extensive design sketches of Ineke Hans, BPO engineered the chair to a ready for production design. To achieve this, the different parts were built up in 3D CAD, using the design and dimensional drawings of the designer. In this early stage of the development the required production technique of injection moulding was already being considered.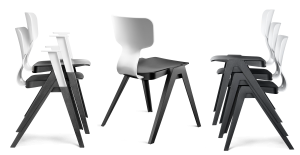 With extensive analyses the chair was then optimised to meet the strict norms and requirements Ahrend applies to its products. The legs of the chair, for instance, are a real challenge to the required stiffness because of their relatively large angle with the seat. The backrest has been optimised using FEM analyses to have sufficient strength, while maintaining enough flexibility especially in the top part to achive a comfortable seating.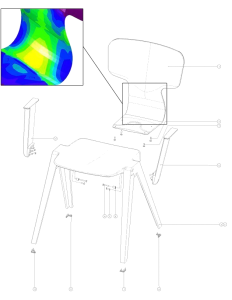 Designer Ineke Hans and Ahrend together have been awarded the Design Factory Prize. The Ahrend 380 chair was found to be the most successful collaboration between designer and industry for its material use, particular design, sustainability and its good use of colour. A collaboration facilitated by the engineering and optimisation of BPO.
The chair has also been awarded the Dutch Recognition of Good Industrial Design (GIO).